Table/showcase flags and exhibitors



Table flag with double sided printing allows different graphic designs on either side.
Available in two dimensions:
Structure heigth cm 38 with flag cm 13×30.
Structure heigth cm 28 with flag cm 10×20.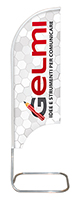 Table feather flag cm 47 height.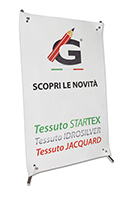 X structure dimensions cm 25×40, provided with single-sided fabric.
Structure and fabric packed individually.
CONTACT US FOR MORE INFORMATION